Resort Trades – the timeshare industry's only true news journal – was established in 1987 and mailed to every single resort in the United States and Canada.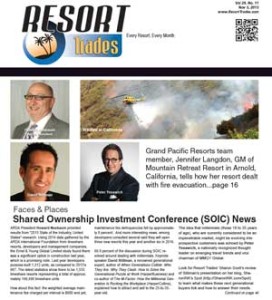 A true leader in the vacation ownership/timeshare industry and its bellwether of trends, issues and the movement of people, the journal is a super-tabloid that is supported by an active online news resource – ResortTrades.com. Resort Trades is distributed twelve times annually to every resort in the U.S., as well as to a subscriber-base of senior-level executives at development, management and timeshare-related travel companies. Resort Trades and ResortTrades.com offer display advertising, classified advertising, directory listings ("Supplier Directory" and "Resort Management Directory"), as well as monthly industry news and press releases, global analysis articles and in-depth interviews with industry professionals and business leaders.
"Timeshare/vacation ownership executives are all familiar with Resort Trades. I look forward to reading The Trades every month. I've looked forward to reading it since the mid-80s, when it was first published." – Franz Hanning, President & CEO, Wyndham Vacation Ownership
ResortTrades.com is updated daily with news items, calendar items and updates pertaining to resort management and development. Due to its receipt of continuous updating and hourly activity by users, ResortTrades.com is the top-rated industry web site on search engines.
Our mission is to be of service to industry professionals. Put simply, our Vision Statement is:
"Provide readers with unbiased and supportive information that will benefit them as they seek to provide their owners and guests with perfect vacations."
June 2017 – Top Resorts
A pictograph of top developers, resorts and the folks that make them special.
July 2017 – The Money Issue, From Growing Revenue to Expanding Opportunities


We will look at helping resort operators grow revenue, expand opportunities, serve their owners and guests better, streamline costs and get smarter about tax planning.

August 2017 – HOA Annual Meeting
Resort managers need the latest product and service information while preparing budgets for the annual meeting.
September 2017 – Marketing & Sales
A how-to manual on the latest on- and off-line marketing and sales secrets.
October 2017 – Refurbishment and Design/SOIC Conference
How to beautify and maintain your resort, inside and out!
November 2017 – Legacy Resorts/ARDA Fall Conference
A look at the challenges mature resorts face, including insurance, accounting, legal, reserves, and management.
December 2017 – Management Company Review
A comparative review of major top management companies.
January 2018 – Top New Year's Resolutions
What plans are resort operators making to make themselves more successful this year? We're asking them to weigh in on how they plan to increase revenue and improve customer service to provide excellent vacations.
February 2018 – Top Managers Tell All
Plus, announcing the winner of the 2017 CEP Award "CustomerCount Customer Engagement Professional (CEP)/Resort Trades Award."
March 2018  – Technology – From Management to Internet Marketing
A 'must-read' for resort operators who want to stay current, enhance revenue and save on costs.
April 2018 – The ARDA World issue
May 2018 – Recreation: Spas, Golf, Outdoor Play & Pools
What are the latest trends for managers and resort operators to watch for, when seeking ways to attract and maintain owners/members and guests?